The very first step before creating a campaign is to find keywords related to your activity, keywords people will type in search engines for which your business should be seen.
A few tools are available to help you find these like the Adwords Keyword Tool .
How does it work? Select your country, type your main activity and the tool will give you related searches. e.g.: if you are selling jewellery online, you would probably start with the keyword 'buy jewellery' or an even broader one like 'jewellery' and check what the related searches are.
Your keywords can be localised or not, depending on your activity (if for example you own a garage, you would add your localisation to the keyword garage so that your ad will only appear when local people type 'garage'. For example: garage + the first part of your postcode).
The tool will then list all related searches for your keywords, giving you an indication of their competitiveness (low/medium/high) along with the number of searches per month for each of them (an average over the last 12 months). The important number if you're doing business in one country only is the local monthly searches. This will give you an idea of the number of people who could view your ads in your country.
With the example 'buy jewellery' this is what it would look like: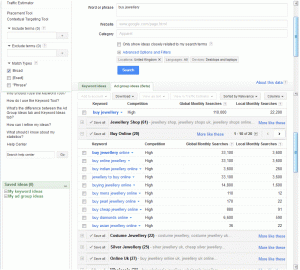 You will then only keep the keywords you think are relevant to your activity. For example if you only sell copper jewellery you will not want to add keywords like 'silver jewellery' or 'diamond jewellery'.
Warning: this tool will suggest a huge quantity of keywords, it's very important that you check them one by one before selecting the relevant ones. If you're starting your first Adwords campaign, you want to be extra careful with the selection of your first keywords and make sure they match exactly what you have to offer. Otherwise you may end up spending all of your budget very quickly on generic keywords or keywords that are of no value to your business.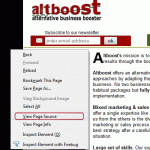 When unsure about some suggested keywords, simply search them in Google to see what type of businesses show up. If the ads you see are related to your activity you can then safely add these keywords to your list.
Another way to find more keywords is simply to go and check your competitors' websites. For Mozilla Firefox users simply right click on their home page, select View Source and check their meta keywords, usually at the top of the html (meta name="keywords" content="….). Alternatively, simply browse their website and check what keywords they're using in their copy.