Once you have a good list of keywords, you will need to create your first ads. Your text will be limited so you need to find something that is both appealing to potential customers and also true to what your business does. Remember that you want only relevant users to click on your ads.
If you don't have an ecommerce website the idea is to get good leads from your Adwords campaign and in order to do this you need those users to at least leave their contact details so you can get in touch with them later and initiate your sales process. So conversion rates from clicks to leads are extremely important along with sending those clickers to relevant landing pages.
In the example below we'll assume you're selling hand-made jewellery online. Before writing your ad, think about how to engage your customers:
What are your best selling products? (necklaces, rings, bracelets, etc. Also check the keyword tool to see the number of searches for each type of items in your area)
What sort of discount or special offer can you give to your potential customers for all or one of your particular items?
Think about seasonality to try and find a great call to action (e.g.: buy before 21 December and get free postage).
Remember to check the ad copy of the other advertisers for your keywords to try and stand out from the competition.
For the example below we'll assume Valentine's day is near and focus on rings for our ads.
Getting started
Use capitalisatio

n for each word of your headlines, it will help your ad stand out.
Headline 1
30 characters including spaces – your strongest selling point should be here.
Example: 25% Off Hand-Made Rings
Headline 2
30 characters including spaces – a strong call-to-action that creates a sense of urgency.
Example: Order yours while stocks last
Description
80 characters. Add some more special offers in there if possible. Don't hesitate to shorten some words as long as they're still comprehensible to the readers (Feb in here for February), this will allow you to fit more words into your ad copy. Try to use the full number of characters, your ad will be more prominent then.
Example: Order Before 10 Feb and Get Both Free Postage and Name Engraving
Path 1
This will show after the root domain in the display URL. Try to use the keywords targeted in the ad.
Example: Hand-Made-Rings
Path 2
That's the third part of the display URL. Just like path 1, try to use the keywords targeted in the ad.
Example: Special-Offer
Destination URL
Be aware that the domain name of your destination URL will show in the display URL.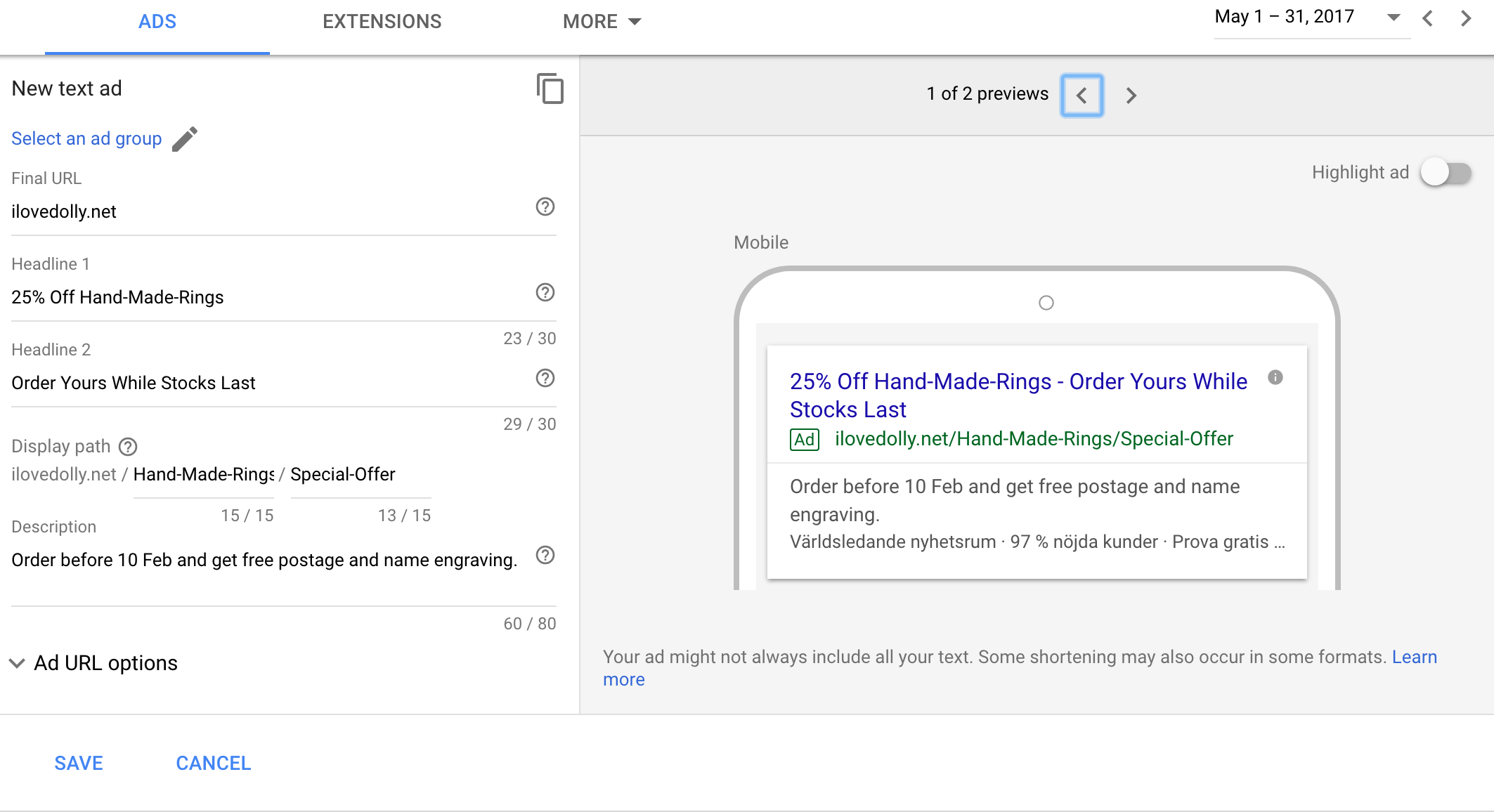 You need to send your clickers to a landing page relevant to your ad (in this instance you will need to send them to a landing page with rings only and repeat the messages shown in the ad about the 25% discount, free postage and free name engraving on that page).
It is recommended you create two to three variations of your ads for each adgroup to test which one performs better in terms of click though rate, quality score and conversion rate (you will need to install the Adwords code on your confirmation page to be able to view conversion rates in the Adwords platform).
Ad rotation
To make sure all variations of your ads will show go to Campaign Settings, scroll down to Advanced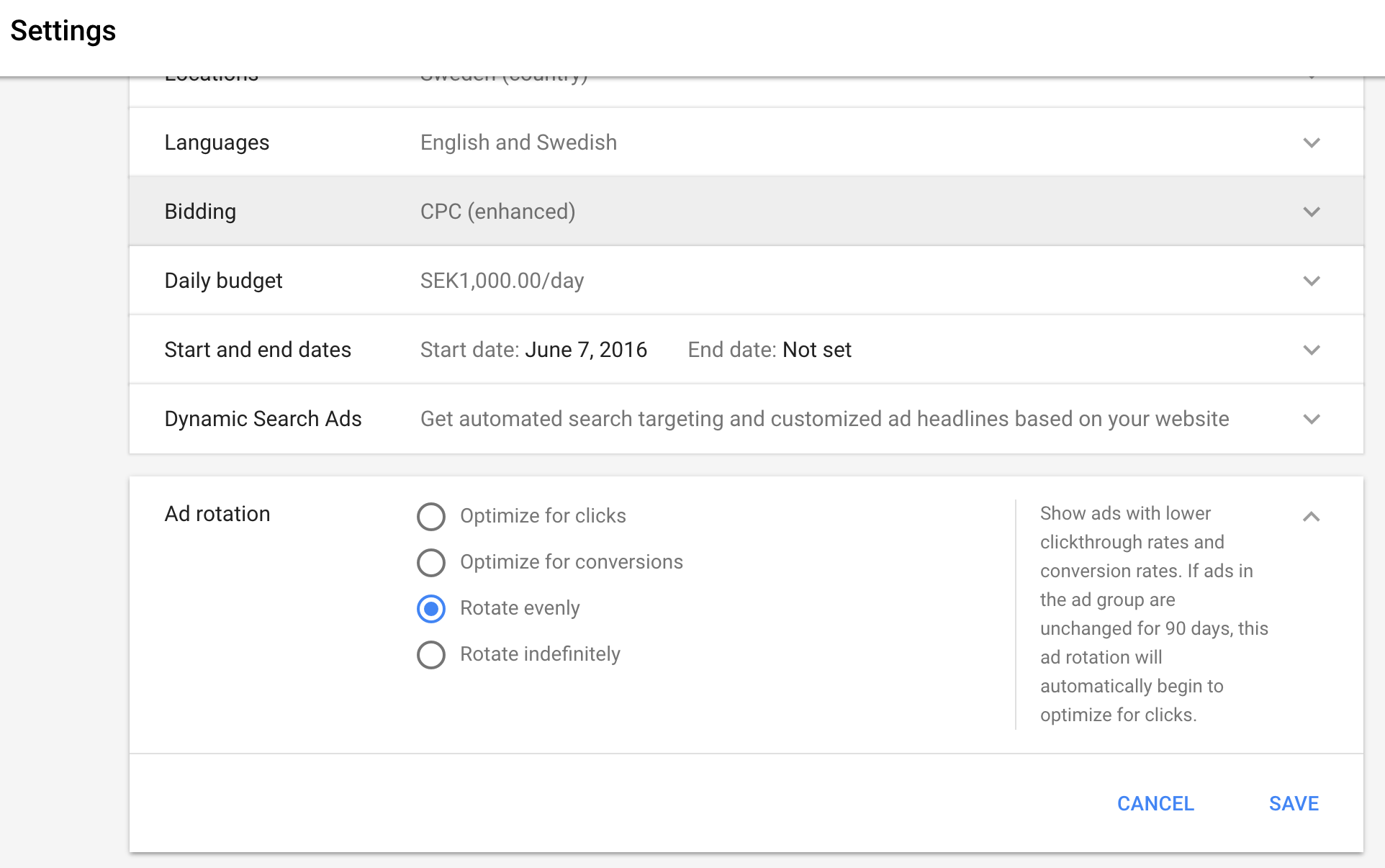 Settings/ Ad delivery: Ad rotation, frequency capping and select Rotate evenly: Show ads more evenly for at least 90 days. This will allow you to check within 90 days which ads work best for you according to what you want to achieve. If it's a high volume of visitors you're after, you will keep the one with the highest click through rates. If you're looking for more sales, just keep the one with the highest conversion rate. Finally if you're looking for profit, keep the one with the lowest cost per conversion.