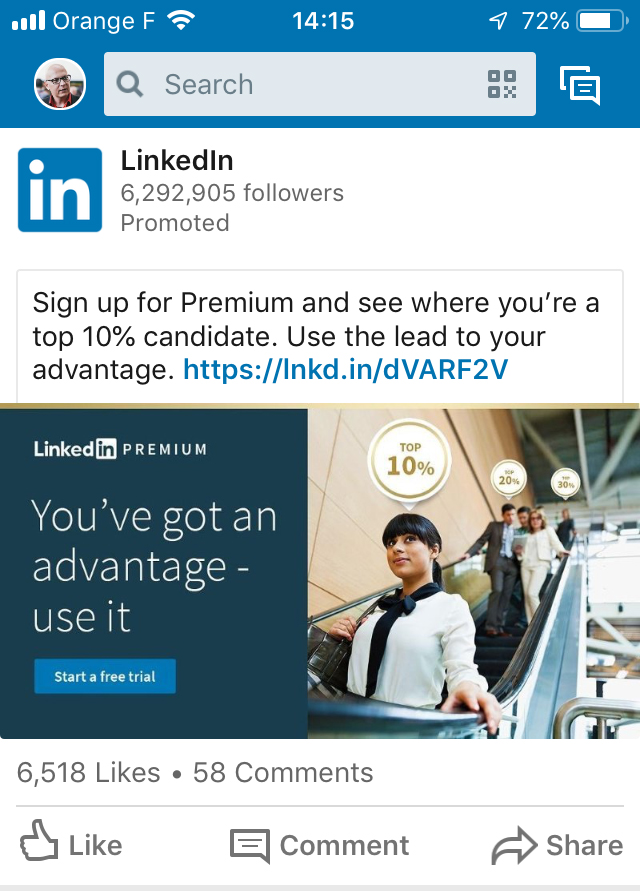 To boost your business even more, why not try LinkedIn advertising? These ads appear on the right hand side of the page. LinkedIn's ad revenue keeps growing year after year (+46% in 2012) which means that more and more businesses are using their PPC program. But what sort of return do they get from it?
According to studies the click to sales conversion rates are almost 3 times higher than Facebook or Twitter. Which is not really a surprise since LinkedIn is a platform for professionals. Although once again we need to reiterate that those conversion rates will only be experienced if you sell to businesses -and of course if your ads are of interest to LinkedIn members.
LinkedIn ads – getting started
Setting up your first LinkedIn ads is pretty straightforward. Scroll down to the bottom of the page and click on the Advertising link. Then click on Start Now.
1. Writing your ad
Enter a name for your campaign, language and type of ad. You also now have the option to create a video ad if you wish. Videos need to be under 30 seconds and will be shown via YouTube. For this particular example we will create a basic text ad.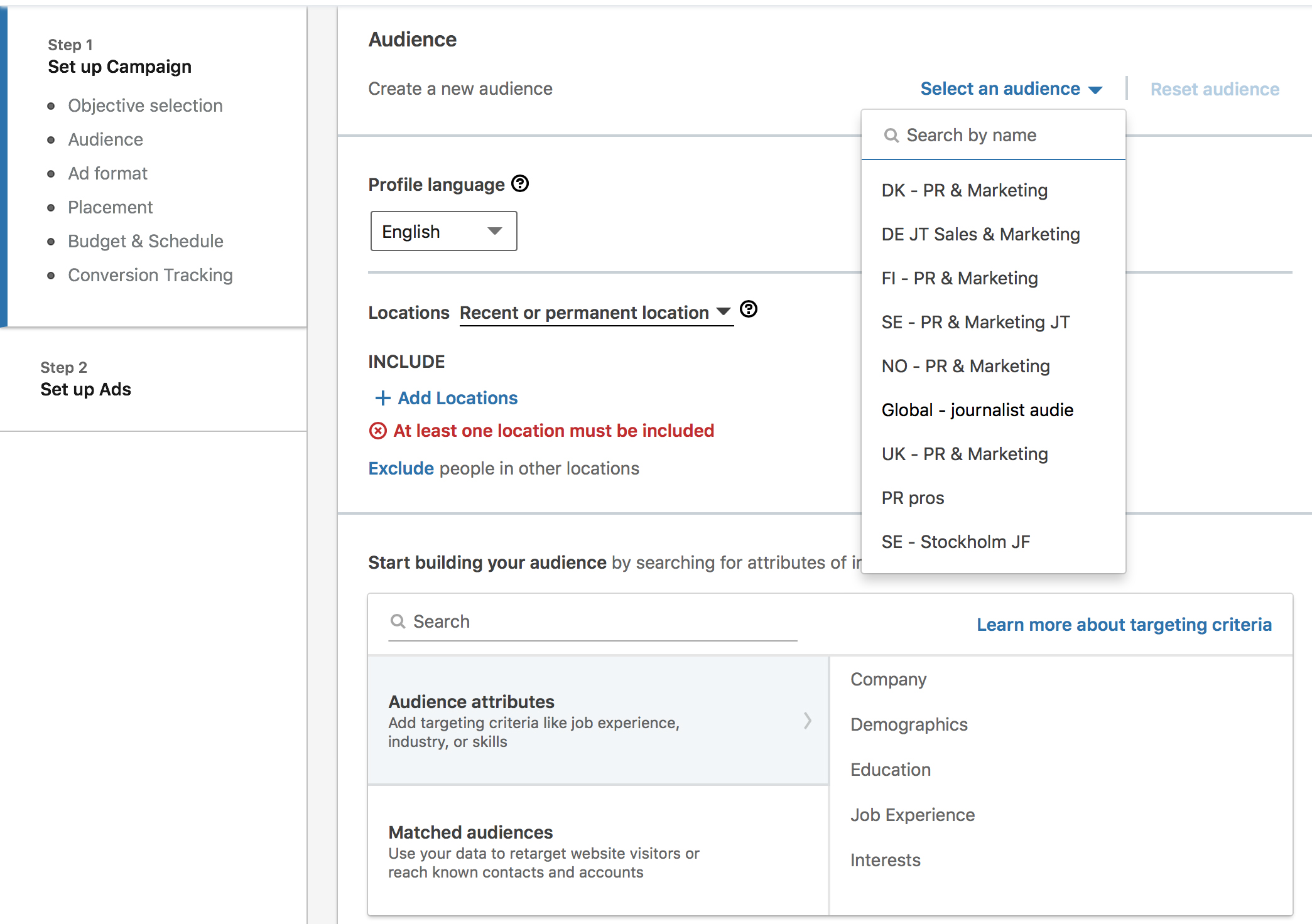 Select your destination URL. To improve your ROI and since you cannot integrate your ecommerce page to LinkedIn yet, it is recommended to link to your website. You will then be asked to write your ad. At this stage you don't know what type of companies you will be targeting yet so just create a quick mock-up ad.
Once you've chosen your target audience in the next step, specifically tailor your ad to those companies. Just like you would do in Google Adwords, try to have a good and clearly visible call to action. The picture is pretty small so try to make it stand out without being too busy. Go check a LinkedIn page and try to imagine your ad there and try to figure out if people will see it and more importantly will want to click on it. A special offer would also be nice in the ad copy.
2. Choose your audience
Just like Facebook ads, this section will automatically update the number of people reached every time you add a new filter. The first filter available is location. For the UK you can trim it down to cities (only the major ones are available). The second one is probably the most important: Company. You will have 2 options available here:
Specific company targeting

You can enter specific company names to target. Once you've added one, you will be given suggestions of other companies related to it. For example if you type Coca Cola you will get suggestions for most of the other companies they own. The question is: why would anybody want to target such specific companies? It's pretty simple: it would allow you to be very precise in your ad and quote something that will easily appeal to those people.

For example if you're selling time and attendance products you may want to target a big company like Coca Cola and its purchase managers. Doing this will allow you to quote the name of the company in your ad and will considerably boost your click through rate. Anything else you know about the company could be used in your ad copy. This is micromarketing and the results are usually phenomenal.

Target companies by industry

This is probably the most used feature in LinkedIn ads: this is the broad industry targeting and the one you will most probably use too. Do you sell vehicle tracking devices? You will want to target transport companies primarily.

Company Size & Job Title

This is another very important filter. Once again if you're selling clock-in devices you will want to target companies with more than 50 employees. And you will also want to target decision makers only which is something else you can do by selecting the job title or job function of your targeted audience.

Skills, Group, Gender & Age

These are the final filters you can apply. Once again you can be very specific here, especially when it comes to skills. Are you selling accounting softwares? Target people who are already using accounting softwares then. You'll get a better chance to convert them into customers.

Random examples of targeting

Here's a list of a few types of businesses selling B2B products and how they may target their audience on LinkedIn. This may give you an idea on how to target your ads according to the products and services you're selling.

Phone system company

Company size 11+/Job function: information technology

Payroll software company

Company size 11+/ Job function: HR

Card terminal provider

Retail, hospitality/Seniority: Manager, owner
3. Campaign options
In this next section you will determine what you're willing to pay for each click and what your daily budget is going to be. As far as PPC bids are concerned it is probably best to start with the given suggestion. You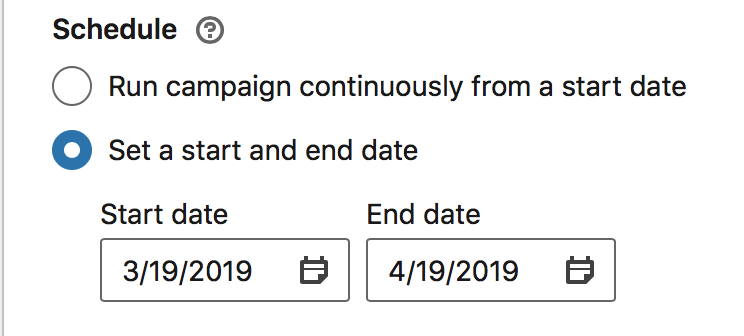 will then be able to adapt it later on. Start with a small daily budget to test whether LinkedIn ads are working for you. If you know you won't have much time to check your campaigns during the test it is recommended to select a specific end date.
Your ads will stop showing automatically at the specified date. You will also be given the option to turn on lead collection. This is a special feature for people who click on your ads: they will get the possibility to request that you contact them. This will result in an email being sent to you asking you to get in touch with this customer. This option may be dangerous though as it may distract your prospects from purchasing your products online. It is probably better to implement this option directly on your website once the potential customer is leaving the page.
LinkedIn sponsored updates
In July 2013, LinkedIn launched a new advertising option named sponsored updates. The principle is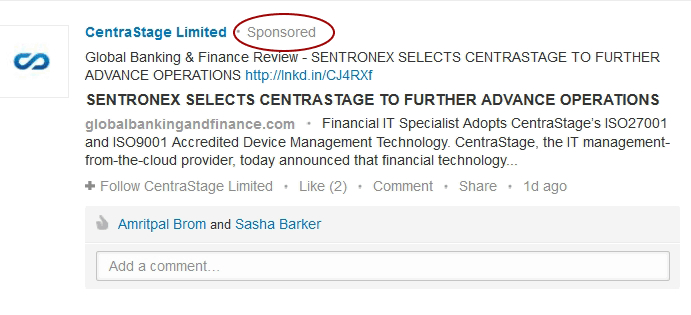 pretty simple and looks very much like Facebook's newsfeed advertising: instead of a small ad on the right hand side of the page, businesses can now promote their posts to targeted companies. The available targeting is the same as the native LinkedIn advertising: location, company size, company name, job title, industry, skills, group, gender and age.
While there is an option to run your campaigns on a CPM basis it is strongly recommended to run them as CPC (when someone clicks on your update) since this new form of LinkedIn advertising is yet to prove its worth in terms of ROI.

LinkedIn is a pretty powerful platform when it comes to B2B sales. The company name and job title targeting in particular can be very specific and help you get one step closer to converting those clicks into sales. On the downside geographical targeting is a little poor in the UK as is the list of industries which would probably need to be turned into business activity for a much more refined targeting.