Twitter is another social network characterised this time by the brevity and high frequency of people's posts. The term often used for this platform is microblogging. Tweets consist most of the time of a short comment sometimes followed by a link, picture or video. One could say it's basically like the post system on Facebook, only more fast paced. People on Twitter can reply to any tweet, share it or simply follow the tweeter.
As of 2012 Twitter had over 500 million registered users who produced an average of over 340 million tweets a day. Creating an account is pretty easy but how do you get followers and more importantly how do you turn those followers into customers? What are the advertising options available to increase your sales? We will try to answer those questions in these pages.
Get more followers & increase sales for free
Account & profile creation
The first step will be to create your Twitter business account: make sure you upload an engaging profile picture (a noticeable icon or a simple picture of you could do the trick) and great header. Another very important thing is your bio, write a short note about yourself and your domain of expertise then try to list all the important keywords for your business activity in there. This will help you gain trust from other Twitter users.
Your first followers will be people you know. Friends first of course but also work colleagues or acquaintances should be made aware you're on Twitter. Mention it every time you can, post it on Facebook, tell your potential clients and customers, this will help you stay in touch and could lead to a deal if you manage to trigger interest from your tweets.
What to post
Try to stay relevant to your business when you tweet. Always keep in mind there are potential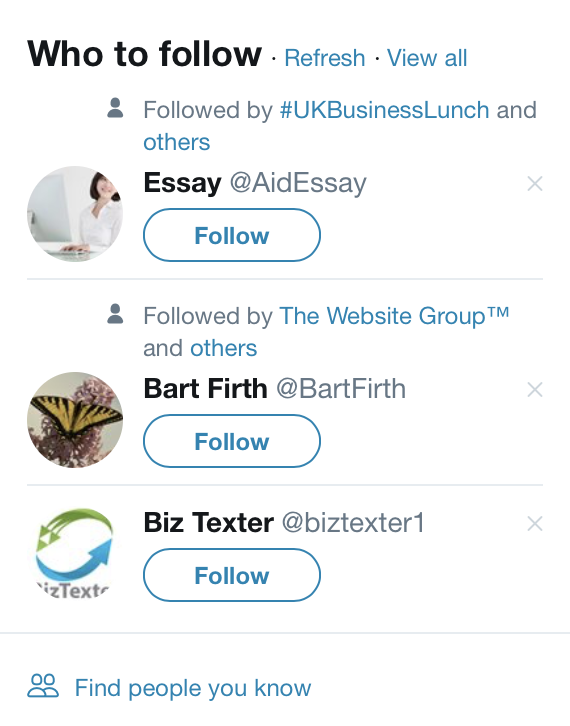 customers following you. Also try to vary the content of your posts: text, links, pictures or videos. Tweet some interesting articles you've found on the internet about your industry, tweet news about your business (new products, special offers), tweet links to your blog entries. Remember that the idea is to become an influencer and in order to achieve that you need to show great knowledge and authority in your domain.
Who to follow
You should follow influencers in your domain of activity. This will help you stay up to date with the latest trends in your industry. Browse categories to find businesses or organisations related to your activity. The good news is that most of the time when you start following someone, they will follow you in return.
Interaction
Interact with people as often as you can to show you are not a robot but a real person. People like that. Don't hesitate to comment on tweets, thank people for following you, retweet or send private messages to your followers. Try to build a relationship with those people, this is the only way they will remember your business and help build your reputation.
Trending topics
Always check what the latest trending topics are and try to react to them when they are relevant to your business. Try to anticipate trends too and put together special offers for Mother's day or Father's day for example. To create trends all you need to do is add the hashtag (#) before your keyword.
Competitions
Try to organise competitions regularly. Give one of your products away or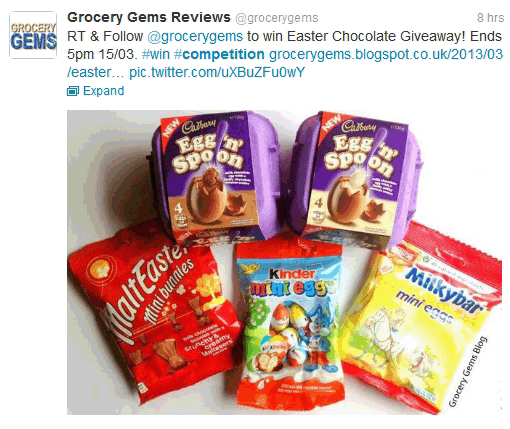 offer a voucher or discount for one of your services. Ideally you should mention that you will run this competition every month to increase followers retention. Create a unique #hashtag for this campaign that people will need to mention to participate.
There are plenty of formats you can try: ask people to help you achieve a certain amount of followers (one lucky winner will be drawn from the list), organise a poll and pick a winner or simply ask people to retweet to be part of the competition.
Special offers
Post special offers regularly with a link to your website. Monitor closely which ones appealed to people and turned followers into customers.
Retweet
Retweeting posts you liked may trigger a retweet from a user when you're posting your own tweets. However you should not overdo it and make sure every time you do the tweet is of interest to your followers.
Interconnection with other social media platforms
Make sure your Twitter account is connected to your LinkedIn, Facebook, Google+ or Pinterest account so that anytime you post on one platform it will be seen on the others. This will save you a lot of time as you won't have to update each account individually. It will also help you get more followers who may notice you're on Twitter via a Facebook post.
Advertise your Twitter account
Add a Twitter icon linking to your account to all the pages of your website. Also have the link in your email signature and on your business cards.
Code of conduct
Be sharp and incisive with your tweets but always stay polite. Nobody likes a user who's showing disrespect to people.