Who hasn't envied a Facebook page with over 100,000 Likes? Now what if it could be yours? Over the years a multitude of pages about broad interests or topics have been created on Facebook by individuals wanting to share their passion. Who hasn't liked a page about travel, wine or chocolate for example? The good news is that most of the time those pages are run on a personal basis by individuals who have no plan to try and make any business out of it. So what could stop you from making an offer to buy these page? Not much really. But before you take out your wallet there are a few things you should check.
Benefits
Growing your followers can take a long time and quite some effort. Buying a page with a high number of Likes will also allow you to save some money on any Facebook advertising. If you manage to find a page related to your business activity, you could then turn these 'Likers' into customers with a good Facebook strategy.
How to find the right page for your business
Facebook users tend to like an interest more easily than a specific page. Simply try to figure out what broad interests your customers have. Start a search with keywords related to your activity and check what pages show up. If you're selling travels online for example it won't be too difficult to find a good personal travel related page. Same thing if you're selling hiking equipment for example. Whatever your business activity, there will surely be a page on Facebook about what you're doing. Once you've identified the right one, simply contact its owner and start discussing their page and followers. Don't forget that most of the time they started this page out of passion and they are probably quite attached to it so don't be too pushy, take it step by step and slowly instil the idea that you may be interested in buying their page. If it doesn't work, just try another one.
Make sure the page has real Likes
Check the number of people 'Talking About This': if too low compared to the number of likes it could mean that the current owner hasn't posted anything in a long while or that the Likes are fake. Just discard this page and move to another one. The next step is to go to the page itself and check the level of engagement for each post. For any page you should have an average of at least 2% of the total number of followers liking, sharing or commenting on each post (for example a page with 100,000 likes should have an average of 2,000 users engaged per post). Once the page has met all these criteria, it can be taken into consideration for a potential purchase.
Ask for a full Page Insights report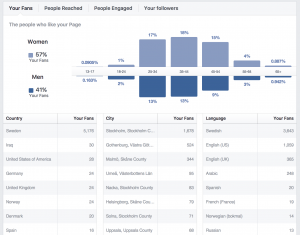 Where are those Likers located? Are they from a country where you have any business activity? What is their gender? Before buying anything ask for a
complete page insights report and check that the Likers' profile and country is relevant to your business.
How much should you pay?
This is a pretty difficult question as it will greatly depend upon what products you're selling. And in the end when it comes to buying everything is negotiable anyway. Try to calculate how much a Like is worth to you on your official Facebook page. Also check your conversion rate Like/sales. This will give you an idea of the maximum you could pay.
How to manage your new page
Once you've bought this new page don't make any radical changes, check the history of posts and stick to the frequency (if not too high) and what seemed to engage followers. You can then gradually introduce links to your ecommerce website in posts. Whatever you do remember that the change of ownership must be subtle in order not to scare your followers away.
Legal or not?
Buying a Facebook page can simply be assimilated to appointing a new person as its administrator and there aren't any legal issues involved here. What you will get is the login and password of this Facebook page. Since logins are email addresses the seller will just need to change his primary email address to an ISP one and give it to you.
In conclusion buying a Facebook page is a great option for start-ups with a low number of followers. If you find it difficult to finalise a deal with a page owner you can alternatively offer to become a partner and buy some presence in their page posts.